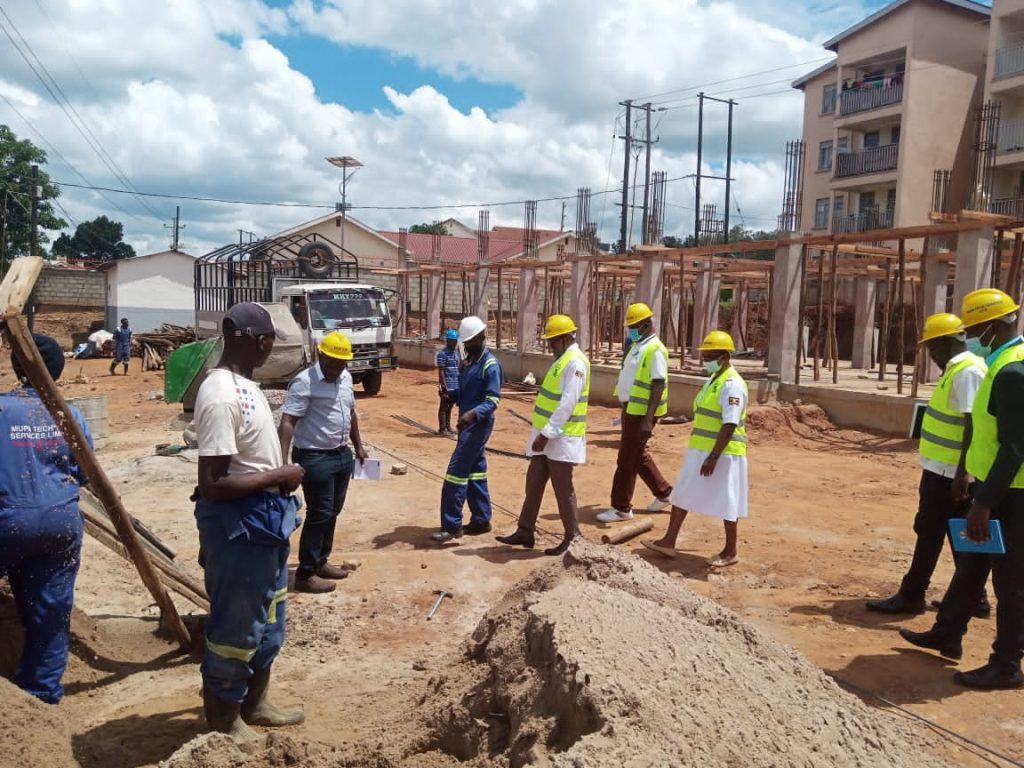 The outcry of inadequate accommodation at Mbarara regional referral hospital is soon becoming a mystery as the biggest regional health facility is putting up a 32-unit staff house.
 This is being constructed by Mupa technical services and they are promising to hand it over  either before the end of this year or early next year.
A supervisory committee led by Dr. Celestine Barigye, the Mbarara RRH director, made a site visit and was briefed by the contractor that construction works are at 20%.
Later, the committee which comprised of Francis Ojok, hospital administrator, Francis Mugisha, the Mbarara RRH senior accountant, Kenneth Omita, head of procurement, Rose Dusabe, the in charge of intensive care and Halson Kagure, the Mbarara RRH public relations officer held a meeting with the contractor and the consultant to chat the way forward.
Mr. Richard Mayanja who led the consultant team revealed to the  management that they faced numerous challenges at the start.
Mayanja claimed that they experienced delays in commencing the construction adding that some occupants which included an army officer were reluctant to vacate the premises in time.
He further shifted the blame on UMEME, Mbarara branch for not acting urgently to shift the high voltage (HV) power line which would later affect the slab works.
To the contractor, MUPA Engineering limited which was represented by Patrick Mugenyi, the current harsh economic times in the country also hindered their progress.
He cited an increase in the prices of cement and iron bars which he says somewhat affected them but they are committed to complete the works.
Nevertheless, the contractor pledged to expedite the works in order to avoid unnecessary delays.
If the project is completed, according to Dr. Barigye, the hospital executive director, it will solve the challenge of unnecessary expenditure on transportation of the staff.
This project is funded by the government of Uganda through the ministry of health at a tune of 5.7 Bn UGX.
Halson Kagure, PRO
Mbarara Referral Hospital