Mbarara Referral Hospital has emerged the overall winner of 2022 public service award beating all other hospitals beating all other counterparts in the country.
The award was received by the Hospital Director Dr Celestine Barigye at Kololo Ceremonial Grounds where the 11th Public service day took place on 22nd June of 2022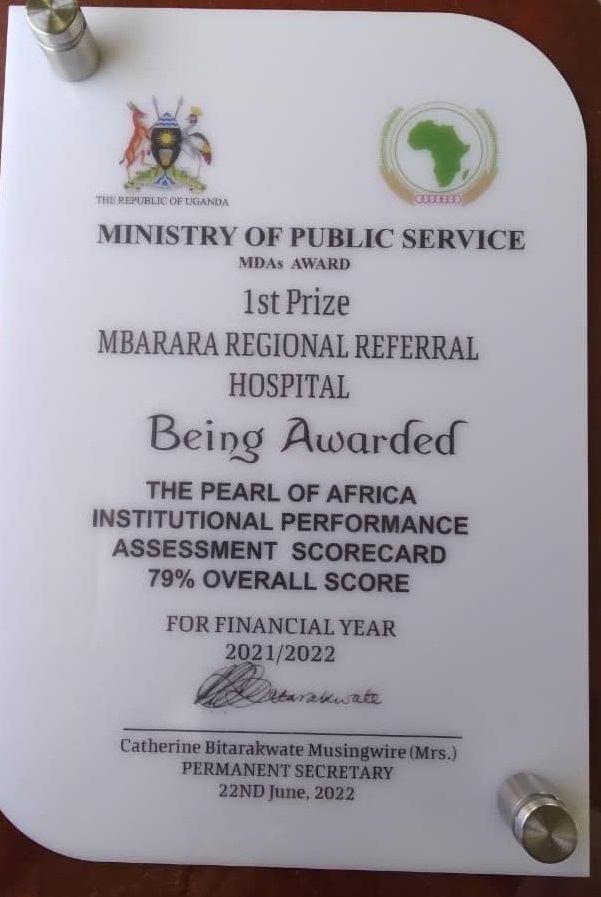 The good news broken by Halson Kagure, the Mbarara Referral Hospital Public Relations officer who confirmed that the Hospital scored 79%.
According to Halson Kagure, this is a highly competitive award which speaks to twenty four hour toil and sweat ever experienced by the hospital staff in ensuring that health services are trickled to all users.
Dr Barigye expressed happiness upon sweeping the award adding that its an indication that the government has been taking good truck of hospital achievements.
" I am extremely happy , no words to express my self", Dr Barigye said.
Dr Barigye also commended government support through relevant ministries such as the Ministry of Health that runs Mbarara RRH, Ministry of Public Service that has worked tirelessly in ensuring that workers are motivated in various ways.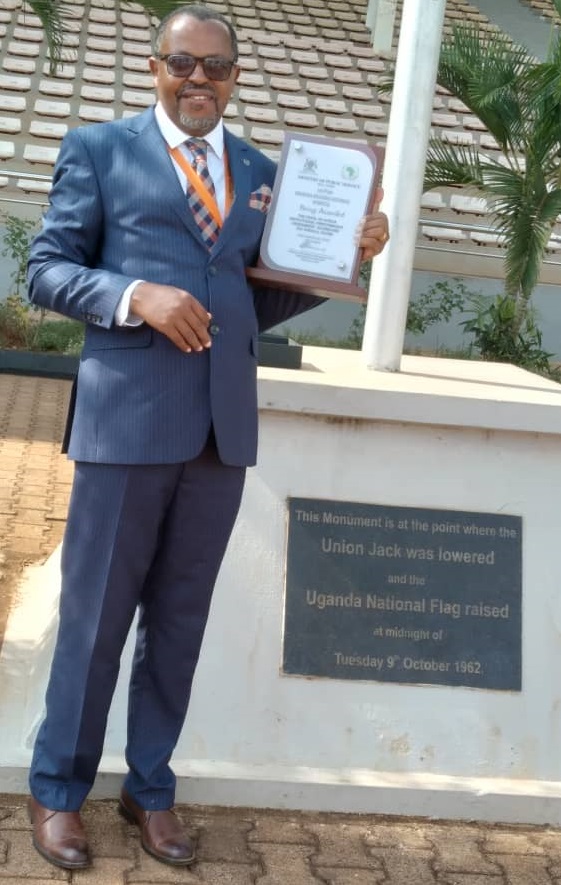 Recently, the permanent secretary Ministry of Health Dr Diana Atwine was quoted showering endless praises to the hospital director during the launch of Histopathology and Research Laboratories early this month.
According to Dr Diana, the Mbarara RRH Director Dr Celestine Barigye has distinguished himself through hard-working with a clear aim to transforming the hospital which many believe deserves a national referral status.
The Hospital Public Relations officer Halson Kagure explains that amidst limited space Mbarara Referral Hospital has continued to grow by leaps and bounds.
For example, Halson Kagure says that after showing potential, government and other key partner USAID responded by awarding them two multi billion laboratories.
'Laboratories such as the newly launched laboratory funded by the American people will no doubt improve the quality of health besides research by Mbarara University of science and technology which is the hospital's teaching affiliate", Says Halson Kagure.
Mr Francis Mugisha, the Mbarara Referral Hospital senior accountant says he was very happy to hear that the hospital received the award.
According to Mr Mugisha who's also a member of top management committee winning such an award arouses inner motivation.
"It's good that the public has appreciated our services and we continue to over more to the people (wanainchi)
His joy is also shared by Mr Joseph Balikudembe, the hospital senior Human Resource officer who urged his staff to stay put in order to win more awards.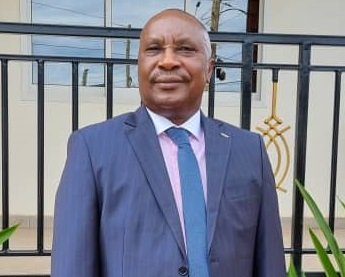 In an exclusive interview with Dr Celestine Barigye, he also added that through government support & other development partners, the hospital was gifted with new COVID-19 treatment center.
More so, Mbarara Referral Hospital has made a house hold name in performing high risk surgeries with the latest being successful separation of conjoined twins.
Apparently, according to the hospital director Mbarara Referral Hospital receives over 6million people from greater Ankole and neighborhood countries.
Dr Barigye commended the hospital staff for working hard to attend to patients adding that its the reason they have scooped this award.
Africa public service day is celebrated annually on 22nd June every year by all UN member states in recognition of the United Nations International day of public service.
For more update: contact us
https://www.facebook.com/MbararaRegionalReferralHospital/
Email: mrrh@mbararahospital.go.ug