The Mbarara Regional Referral Hospital Senior Principal Nursing Officer has been retired amidst ululations from the Hospital top Management, Staff and Patients.
Sr Agirie Lubega Aligawesa is one of the long serving nurses in the country who has been at it for the whooping 38 years!
Her farewell party which took place in the Hospital premises was graced by the Mbarara Regional Referral Hospital Director Dr. Celestine Barigye.
Dr Barigye described her as an excellent mentor at the Institution which has been in existence for close to 100 years adding that their relationship dates way back in early 1990s.
"I remember Sister Agirie very well. First, a student at MUST and even when we were practicing medicine in the Hospital. While at the ward, she used to teach us how to insert cannulas and many more things we didn't know" Dr. Barigye recalls.
She was also commended for acting as a unifying factor during the time when there were some division among staffs especially nurses and midwives.
Joseph Balikudembe, the Mbarara Regional Referral Hospital Senior Human Resource Officer commended Sr Agirie for cherishing and embracing values of the nurses.
"Every profession if maintained to the standards, the lives of people are going to be well. If nursing profession chooses to do their professionalism you know what's going to happen." Mr Balikudembe.
Charity Kwarikunda, the Area Manager of Accidents and Emergency Unit talked about the former SPNO as an excellent nurse leader and mentor who uplifted their hands.
Rise to Raise
A daughter to the late Hajji Juma Lubega, a Muslim farmer who had migrated from Luwero district to Kakoba division now in Mbarara city, Agirie was born on 17th December 1962.
Her father was among the hardworking Muslim men who valued education.
Agirie says her dream to become a nurse was resuscitated by the immediate neighbor whom she only recalls as Mubiru.
Even when she completed her secondary education at Kyebambe girls in 1979, However, Agirie had to skip one year without going to school, due to political upheaval in Uganda. she couldn't look any further but enrolled at Kabale Nurses Training School in 1981 and completed her certificate in 1983 as an enrolled nursing.
Her first work station was Mbarara District Hospital now Mbarara Referral Hospital in 1984. At a time, gun-shots of Gorilla war that brought the current regime led by the current President Yoweri Kaguta Museveni to power was a 'talk of the nation'.
To keep her dream alive, in 1987; she went to Mulago School of Nurses and Midwives where she studied a diploma in Nursing. This, widened her chances of being promoted to a Nursing Officer in 1989.
She would then proceed to Lubaga School of Nursing and Midwifery for double training between 2001 and 2003.
The next step was Bachelor's in Nursing which she attained in 2007 at Mbarara University of Science and Technology.
But, her quest for knowledge never ceased. Between 2008 to 2009, she opted for a one year post graduate course in Sexual Reproductive Health at Malmo University in Sweden.
This, was followed by an additional diploma in Health Service Management at Uganda Christian University in 2013.
At UCU, her academic cascade climaxed with a Master's degree in Public Health Leadership which she bagged in 2015.
"Perhaps, this rich academic background enabled Dr. Barigye to recommend me for promotion to Principal Nursing Officer position in 2015", She reasons.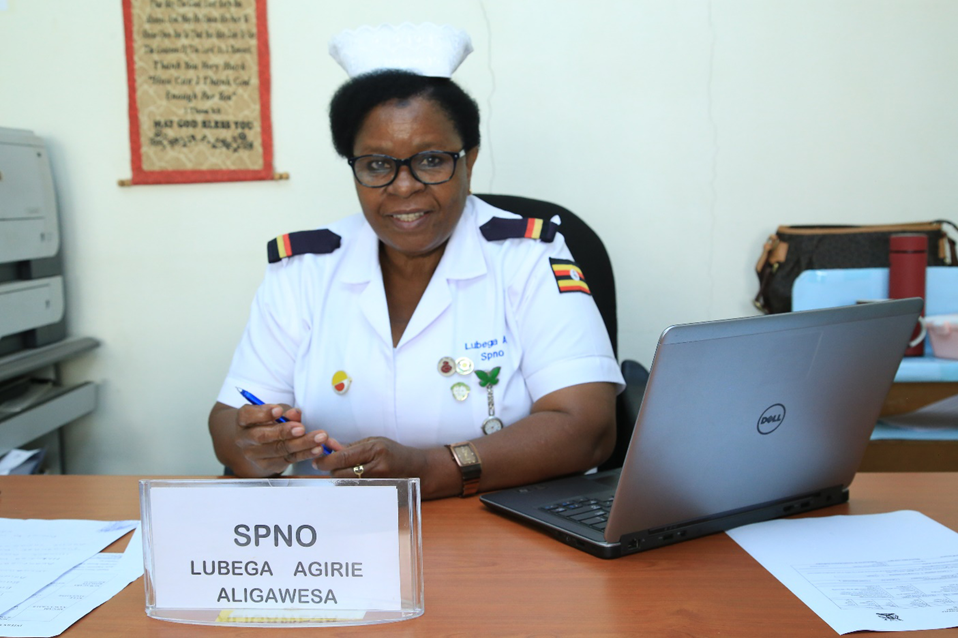 However, when Health Service Commission effected the recommendation, her stay at Mbarara Regional Referral Hospital was short-lived.
She was transferred to Mubende Regional Referral Hospital where she was added a rank of Senior Principal Nursing Officer in 2017, and was transfered to Jinja Regional Referral Hospital.
Later in 2021, Agirie whom Sister Juliet Natukunda, a Principal Nursing Officer recently promoted by the Health Service Commission; described as a tough and principled servant bounced back as a SPNO up to last Friday when her tenure came to an end.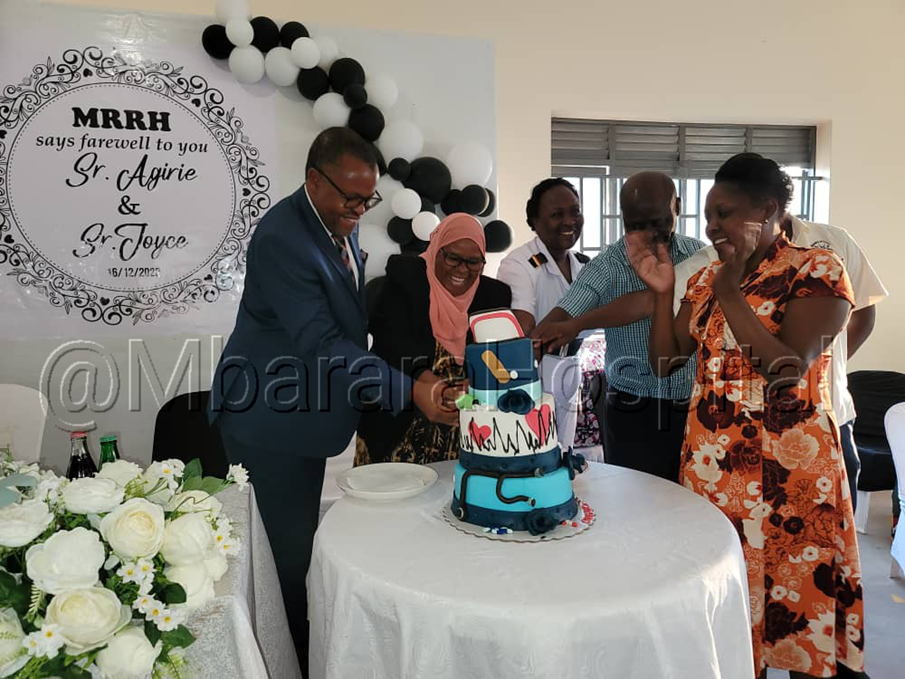 During her tenure, Ms Aligawesa also an executive member of Islamic Association of Uganda and a member of Board of Trustees, scooped various accolades which among others; include a medal of being an exemplary worker from the President during Labor Day Celebration in Kisoro district in 2015.
She commended the support and guidance offered by the Office of the Hospital Director as she challenged public servants to always respect retirement.
"When time comes you can't say no. It's good to say bye-bye when you are still alive than when you are dead", She says.
On the other hand, she expressed unhappiness to some Nursing practitioners whom she accused of soiling the name of fraternity through wrong doings.
She challenged them to serve diligently and become someone special that everyone would like to associate with so as to uphold and protect the image of Nursing Profession.
For now, Sr Juilet Natukunda, the Mbarara Regional Referral Hospital Principal Nursing Officer will be caretaking Agirie who retired at 60.
At 60, the retired SPNO now says that retirement is an opportunity for to become a senior citizen ready to unleash her long acquired knowledge to her successors in the field.
William Shakespeare once said: "All World's a stage and All men and women merely players, they have their own entrances and exits….") but, Agirie's exit according to some of her mentees leaves behind a legacy they are challenged to take suit.
Halson Kagure, the Writer of this article is a Multimedia Journalist & Public Relations Officer at Mbarara Referral Hospital