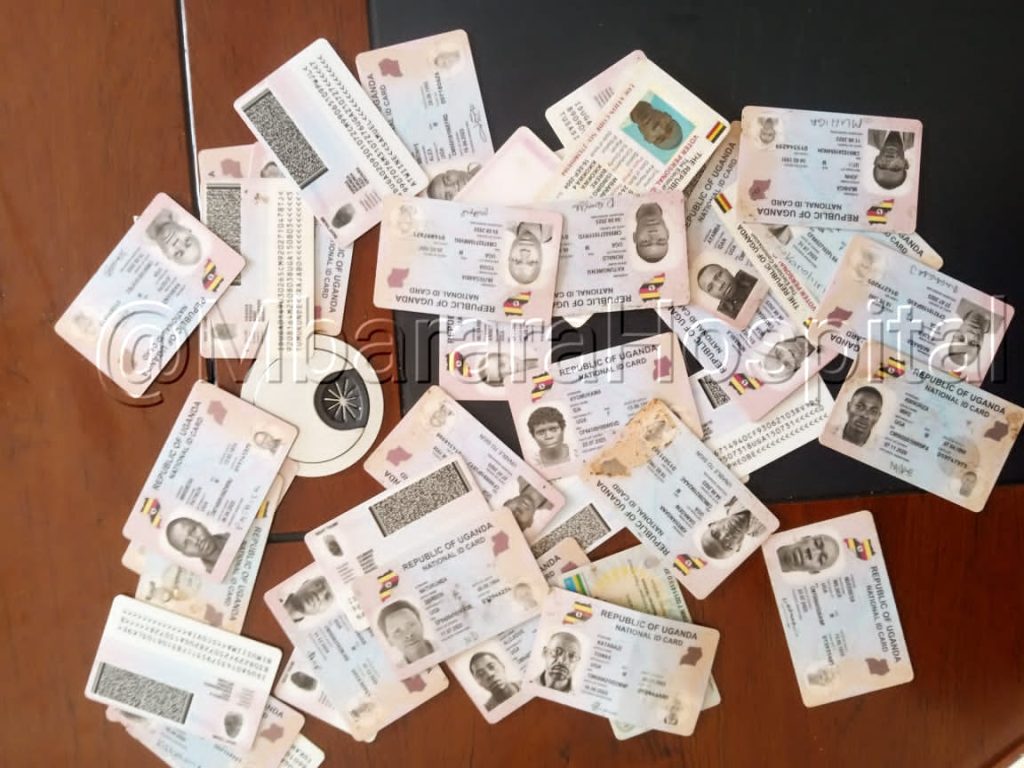 Mbarara Referral Hospital management are concerned about the rate at which patients & caretakers are losing their national identity cards.
Through the Mbarara Referral Hospital Public Relations Officer Mr Halson Kagure revealed that they are in possession of quiet number of Identity cards which were picked by the security within the hospital premises. Addressing the media at his office PRO Halson Kagure flashed the lost and found Identity cards adding that by address owners are scattered all over the country.

"While evaluating these National identify cards, we establish that owners come from Rukungiri, Kanungu, Hoima,Rubirizi, Ntungamo among other districts in western Uganda and beyond", Kagure said.
Kagure also revealed that among the found national identity cards there are those which belong to Rwandans.
However, Kagure appeared unsurprised the fact that Mbarara Referral Hospital looks after clients across the Country's boarders including over Seven nationals from the refugee resettlement camps within western Uganda.
The Hospital PRO Kagure advised patients and caretakers to always photocopy their Identity cards and stop moving with the original ones.
Kagure's caution is in reference to the recent warning from the minister of internal affairs Gen Kahinda Otafiire who said that the replacement could cost 200,000 Ug X.
According to Gen Kahinda such fee is aimed at perhaps instilling sense of seriousness among National identify card holders found of mishandling own IDS.

On the other hand Dr Celestine Barigye the Mbarara Referral Hospital Director has encouraged people to always make it a point to look for their Identity cards as ill-motive people could otherwise pick them and use them to commit crimes which may end up costing the real owners.
Dr Barigye urged all those who could have lost their IDS while traveling to Mbarara RRH or within the perimeters of the Hospital to come for them
Dr Barigye Celestine said that owners should inquire with the public relations office where these Identify cards are kept.
Statistics from the Hospital's public relations office indicate that on a monthly basis at least over 50 national identity cards are picked from the hospital by the security though at times owners come for them.