Mbarara Regional Referral Hospital attracts global attention due to unmatched services beyond its healthcare system!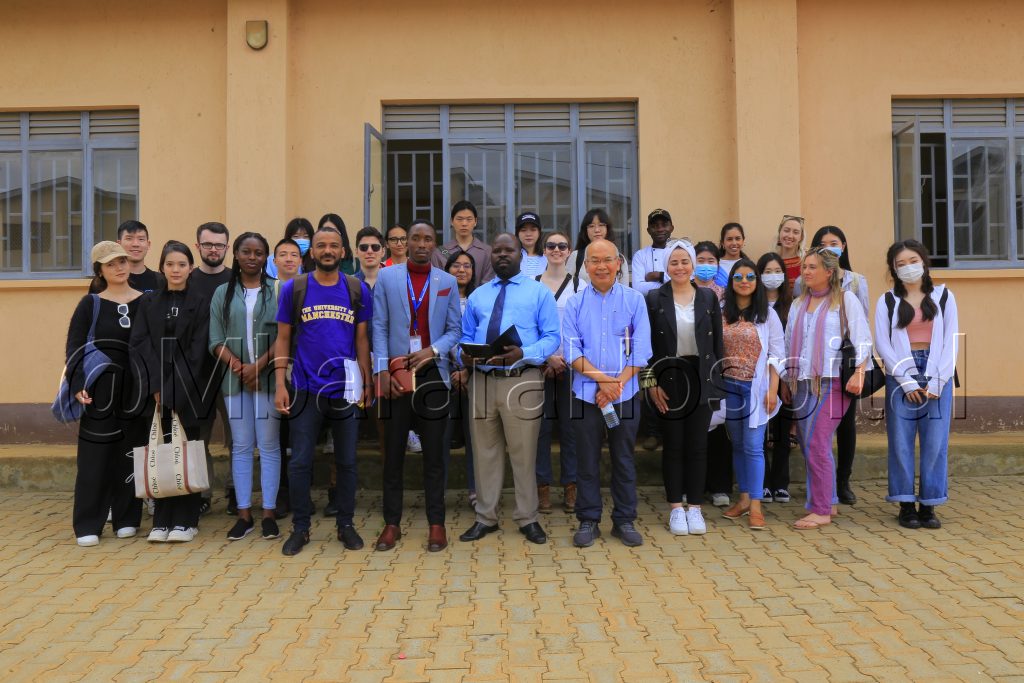 From a small unit that attracted overwhelming numbers of Brucella and Tuberculosis patients in 1950s, Mbarara Regional Referral Hospital commonly referred to as Mbarara Hospital has spread its wings in offering highly specialized patient care services.
Among 17 Regional Referral Hospitals in the Country, Mbarara Hospital can now boast of being next to none as far as health care service delivery.
This is explained by referrals the hospital gets from other regional referrals most especially those from South Western districts of Uganda.
It's evident that the 93-year-old Institution currently headed by the Hospital Director Dr Celestine Barigye has been in the news for doing master class surgeries something that has widened its reputation.
This perhaps explains why the institution's name appears on the first list of Institutions of great repute which would wish to visit and explore its modus operandi.
When Dr Gindo Tampubolon, a senior Don at the 6th ranked University out of over 25000 varsities on the globe was looking for the desired institution for study tour, Mbarara Hospital was at first thought.
Dr Gindo who led the team of 30 students whose focus was on Development Management was fascinated to learn that Mbarara Regional Referral Hospital beats her counterparts in health care service delivery.
"I am happy to learn from the Public Relations Officers presentation that this is the only regional referral Hospital that offers cancer services apart from Uganda Cancer Institute. This is very exciting because without this Hospital Uganda Cancer Institute would be weighed down. I think the Government of Uganda should consider giving enough support to this Institution", Dr Gindo.
In his presentation, Halson Kagure the Hospital Public Relations Officer noted that they receive a lot of cancer patients from Ankole Region which is its catchment area and beyond.
Kagure added that they have two Units which include Pediatric Oncology which handles children and Adult Oncology for adults.
"In most cases, we receive patients with advanced medical conditions simply because over 60% of them first make attempts to traditional practitioners prior coming to Health Facilities as per Ministry of Health findings", PRO Halson Kagure.
The catchment area of the Hospital comprises of thirteen districts in but with highly specialized services offered it attracts a huge chunk of patients from other referral Hospitals such as Kabale, Hoima, Masaka, Fort Portal Regional Referral Hospital among others.
"Furthermore, the geographical location of the Institution which now doubles as a teaching affiliate of Mbarara University of Science and Technology and other Medical Schools in the country puts it at the center of health care service seekers from the neighboring countries of the Republic of Tanzania, Rwanda, Democratic Republic of Congo and Burundi", Halson Kagure.
Ms Juliet Ankunda, the Hospital Principal Nursing Officer says that in a bid to improve of the quality of nursing care at the hospital, they have been encouraging Nurses and Midwives to upgrade their skills.
Ankunda added that most of Nurses at Mbarara Regional Referral Hospital have been passionate about career development which is explained by the reasonable number of them who have acquired degrees from various institutions.
The University of Manchester visitors were then led to different Units such as Covid-19 Treatment Unit which in plans of being renamed to Infectious Diseases Treatment Center.
The state of art facility replaced temporal like structures which used to be behind the Hospital Mortuary where most outbreaks used to be handled.
Here, Dr Gindo applauded the Hospital Administration for putting up a decent facility outside the main Hospital to handle the emerging and re-emerging highly infectious cases.
He added that he was also happy to learn that the hospital is equipped with a functional neurosurgery department which is headed by Prof David Kitya the current chairman of the Neurosurgical Society of Uganda.
However, Fracis Ojom, the Senior Hospital Administrator raised concerns over constant drug stockouts attributed to overwhelming numbers of patients.
Mr Ojom added that the Hospital budget on drugs is still small adding that they have been operating on the same budget for the past years amidst huge referrals and rapid population growth.
On several occasions, Dr Celestine Barigye, the Hospital Director has argued that the question of limited drugs can be solved by elevating Mbarara Hospital to a National Referral Hospital which attracts the upward revision of the hospital budget.
This will also necessitate the demolition of dilapidated structures such as Outpatients Department, Maternity, Surgical Ward among others at the expense of erecting storied structures to pave away for expansion.
In fact, in 2011, the President of the Republic of Uganda H.E Yoweri Kaguta Museveni had laid a foundation stone that marked the expansion and rehabilitation of the hospital.
This had started with the commissioning of building complex that houses Accidents and Emergency, Radiology and CT scan, Dental, the Accidents and Emergency Unit, Administration, Private Wing, Pharmacy, Operating Theatre, Oxygen Plant and Biomedical Engineering.
Mbarara Hospital now boasts of over 40 specialized services and by turning it to a National Referral Hospital it will widen the scope of services currently offered.