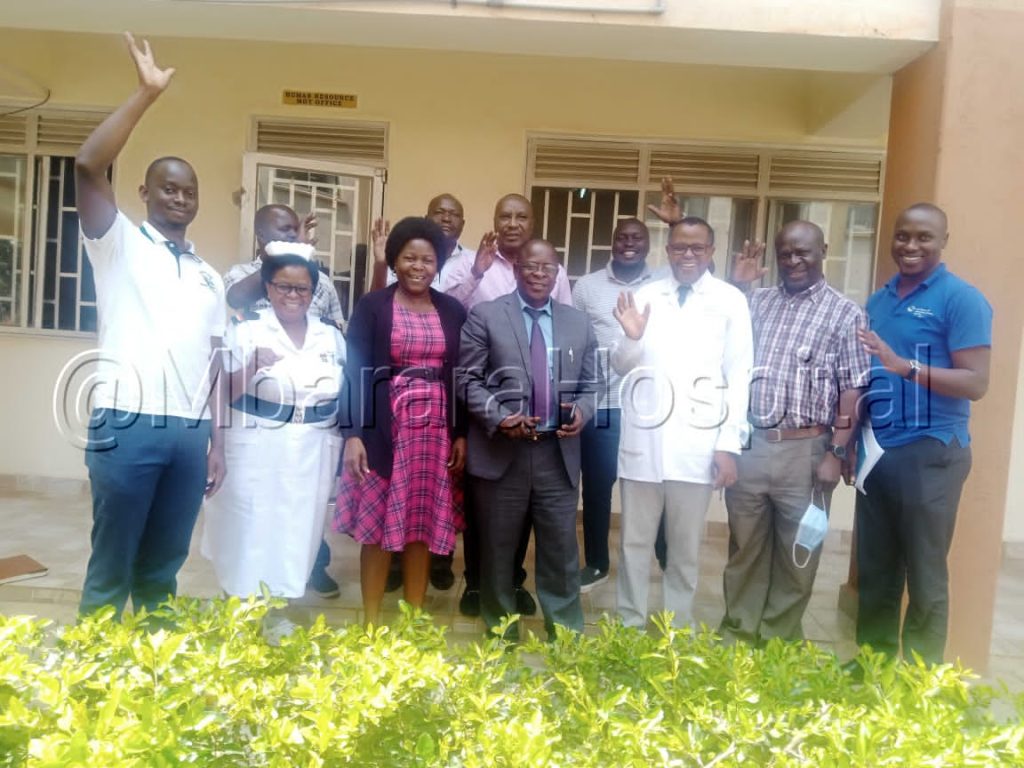 Mbarara Referral Hospital Principal
Administrator hands over office, hailed for being transformational.
The Mbarara RRH principal administrator Mr Peter Okello Odeke has handed over to his counterpart Sarah Mulongo who previously served as Kabale hospital principal administrator.
Mr Okello who has been at the helm of Mbarara Referral Hospital since 2017 was recently transferred to Lira Regional Referral Hospital to serve in in his former capacity ( Principal Hospital Administrator)
For starters, a principal hospital is an officer charged with supervision of administration & finance.
During the handover ceremony which was presided over by the Hospital boss Dr Celestine Barigye, Mr Odeke presented a detailed report on how with top management support he stirred up many development aspects in the institution.
He noted that the hospital continues to perform as a regional referral hospital but its operations are far beyond the mandate of a regional referral hospital.
He added that plans to elevate Mbarara Referral Hospital to a National Referral status should never be swept under the carpet but The man whose jolly has been found in hugging everyone especially nurses & midwives in the biggest institution found in the land of milk and honey would then turn to his successor Sarah Mulongo to offer helping hand to top management in achieving their Vision.
It should however be noted that the hospital Development plan was initially planned over three phases and resources were secured from Africa Development Bank that did the first phase and constructed the existing new structures.
Nevertheless, limited space is hindering the expansion of the hospital yet efforts to secure more land have been underway.
Mr Francis Mugisha, the hospital senior accountant applauded the outgoing Principal Hospital Administrator for exhibiting skills in the areas of finance and administration.
This was not different from Mr Pius Emojong the Hospital Principal Hospital Resource officer with his counterparts who said Mr Pius also had vast knowledge in helping them in settling human resources related issues.
The hospital has very limited and no more land for future expansion have been underway.
Dr Celestine Barigye noted that the PHA has been among those jealously defending the ethos of the institution besides fighting for it's national status.
The new Principal Hospital Administrator said she's optimistic that she will step up in her predecessor's shoes as she promised to bring new innovations on board.